FOUNDED1993
PARTY LEADER
LEADER SINCE
COLOURPurple/Yellow
MEMBERSHIP40094
MP'S2
WEBSITE: http://www.ukip.org/
HEADQUARTERS: Lexdrum House
King Charles Business Park
Newton Abbot
Devon
TQ12 6UT
IDEOLOGY: Euroscepticism,Right Wing Populism,British Unionism
POSITION: Right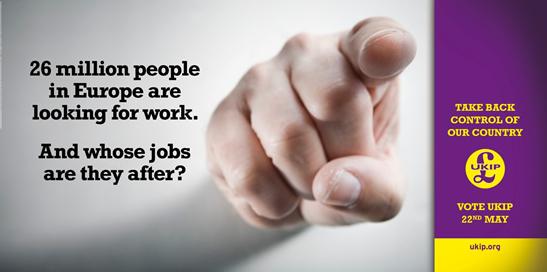 Party Introduction
Populist Eurosceptic party, which favours withdrawal from the European Union, national sovereignty, direct democracy, individual liberty, small government and economic liberalism. Source: Wikipedia
Founded in 1993 by members of the Anti-Federalist League, the party's main objectives were to secure the UK's withdrawal from the European Union. The party is commonly known and referred to as UKIP.
The Eurosceptic, right-wing populist party first made its first significant breakthrough at the local elections in 2013, when it came third in the nationwide share of votes, and fourth in terms of the number of council seats the party won.
The current leader of UKIP is Nigel Farage, a founding member who has held the position since 2010 (although he also held the leadership from 2006-2009), and had been an MEP since 1999.
In the 2014 European Elections the party received the most votes from the UK - the first time for more than a century that a party other than the Conservatives or Labour has won.
In October 2014 the party gained its first elected MP at Westminster by winning the Clacton seat by more than 12,000 votes - a wing of 44% from the Conservative party. Its second seat was achieved by Mark Reckless, a Tory defector who resigned and was re-elected for UKIP in Rochester and Strood.
The public's perception of a 'single issue' party led to Farage performing a full policy review, with his goals of 'the development of the party into broadly standing for traditional conservative and libertarian values'.
Browse more information about the uk independence party%%> party and read about their members, policies, or read news.
UK INDEPENDENCE PARTY PARTY
POLITICAL BROADCASTS
16 November 2008
2015 General Election Guides
© Copyright 2014/2023 Who Shall I Vote For? and Chris Haycock Policy scoring algorithm updated 09 December 2023 at 00:43