Time to wrap up
Well, it's time we wrapped up our election breaking news page. The Tories now have a majority with 331 seats (as of 13:30), and with party leader David Cameron visiting the Queen at Buckingham Palace, it's a done deal.

I certainly enjoyed staying up most of the night to break stories as they happened, and I look forward to the next election in 2020. It sounds like a long way away, but time flies.

Thanks for joining us. Please feel free to browse the website, but please be aware that we're updating much of the site over the next few days to reflect the election results.

Chris Haycock, Co-Founder
---
Third party leader resigns
Labour party leader Ed Miliband has resigned from his party following the election defeat, stating that "Britain needs Labour to rebuild after their defeat", and that "the issue of an unequal country won't go away".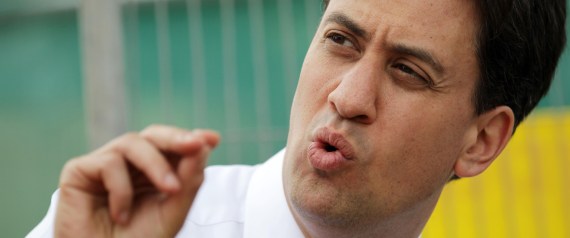 Nick Clegg resigns
Another one bites the dust - Lib Dem leader Nick Clegg has resigned from his party, saying that it was "heartbreaking" for his colleages to lose their seats due to circumstances out of their control.

One seat required for Tory majority
Just one seat for the Conservative party and they will get a majority government of 326 seats. This means that the party won't need to form a coalition to form government.
Nigel Farage resigns
UKIP party leader Nigel Farage has resigned from the leadership of the party, but fuels speculation as to whether he will return after a break from politics.
Thanet South - Conservative
UKIP leader Nigel Farage fails to win the Thanet South seat. Will this mean Farage steps down as party leader? This pretty much leaves UKIP with just one seat in Westminster, unless they can achieve a miracle elsewhere.
The UKIP leader has previously said that he will step down as he was beaten by his former colleague at UKIP who transferred his allegiance to the Tories.
Thanet South Results
Nigel Farage looking clearly nervous as the returning officer commences his announcement.
Miliband to quit at noon?
Not sure where James Chapman of the Daily Mail got this information from, but he reckons Ed Miliband will quit the leadership at noon today.

Ed Miliband expected to quit at noon #GE2015

— James Chapman (Mail) (@jameschappers) May 8, 2015
Ed Balls loses his seat
Quite possibly the highest profile casualty of this general election, Ed Balls has lost his Morley and Outwood seat to Conservative candidate Andrea Jenkyns.

Ed looks like he's being a good sport by congratulating his rival - with apparent sincerity, but underneath he must be smarting at this news.

Just 400-or-so votes separated the two parties in the constituency, which needed a recount. Balls has said that it's been a "great honour" and a "great privilege" to serve the constituency.

Word has it that the Labour loss was down to the UKIP votes, demonstrating that Kippers don't just take away votes from the right, but also the left too.
Zzzzzzz...
I'll be taking a short(ish) break for the next hour whilst I freshen up, brush my teeth and pour another cup of coffee. Breaking election news will continue around 8am today so please do come back for the latest updates. Chris Haycock, Co-Founder
The Sun Front Page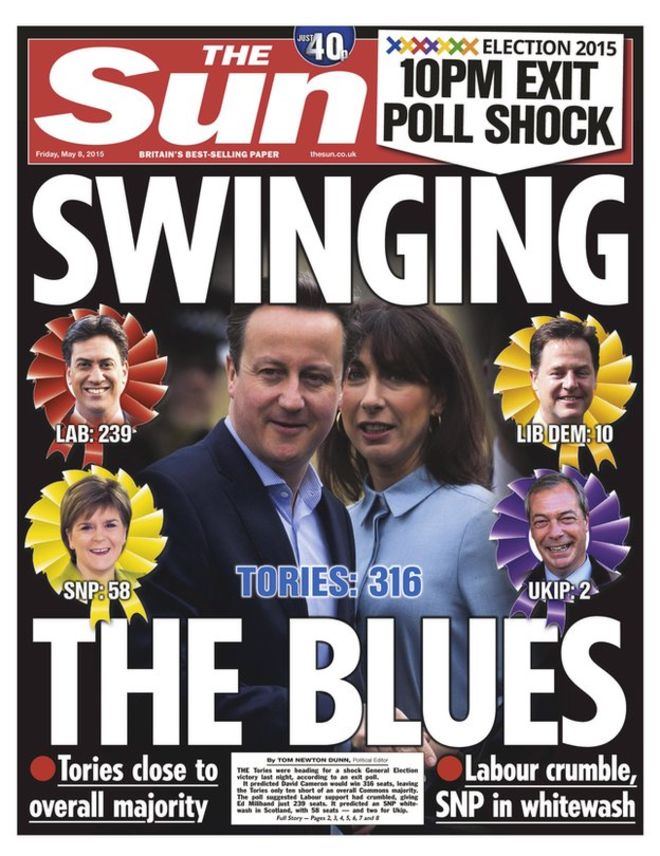 Recounts in Stoke
Both constituencies in Stoke on Trent (North & South) are undergoing a recount after discrepancies were found in the voting process. Several ballot boxes and postal votes were included at a very late stage just before the result was announced. Tory and UKIP candidates Joe Righ and Tariq Mahmood "both unhappy with how the count has been administered" - http://www.bbc.co.uk/news/live/election-2015-32594267
Devon North - Conservative gain
The Tories have gained Devon North from the Liberal Democrats. Nick Harvey to assume control with a swing of 12.3% away from the Lib Dems. Another crushing defeat for the party in peril.
"Except it's just awful" Michael Thrasher

"It's a very mixed bag for the Liberal Democrats, except it's just awful," says elections expert Prof Michael Thrasher

— Matthew Holehouse (@mattholehouse) May 8, 2015
Telegraph Front Page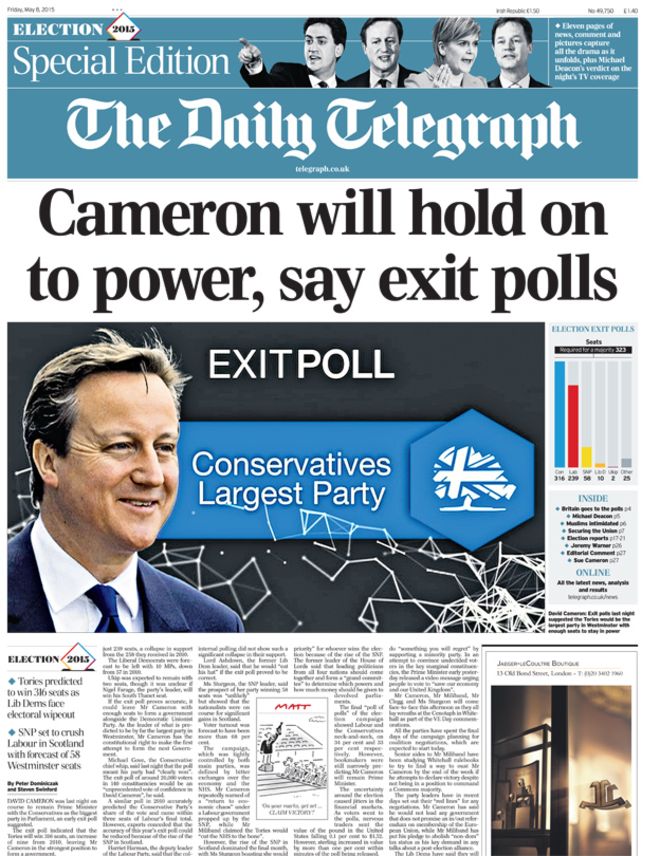 May urges caution
"Relationships between England, Scotland and Wales will change but the UK must stay in place". So says Home Secretary Theresa May, who has urged caution about the final results of the night, saying that it is yet unclear how many seats the Tories will end up gaining.
Sophy Ridge, Sky News on Twitter

Ed Miliband's team seem slightly in shock. He's now heading back to London... #GE2015

— Sophy Ridge (@SophyRidgeSky) May 8, 2015
Sinn Fein loses Fermanagh & South Tyrone
Sinn Fein has lost Fermanagh and South Tyrone to the Ulster Unionists, the last of the Northern Ireland constituencies to be announced. Final Northern Ireland results as follows:

DUP: 8 seats
Sinn Fein: 4 seats
SDLP: 3 seats
Ulster Unionist: 2 seats
Independent: 1 seat
Guardian Front Page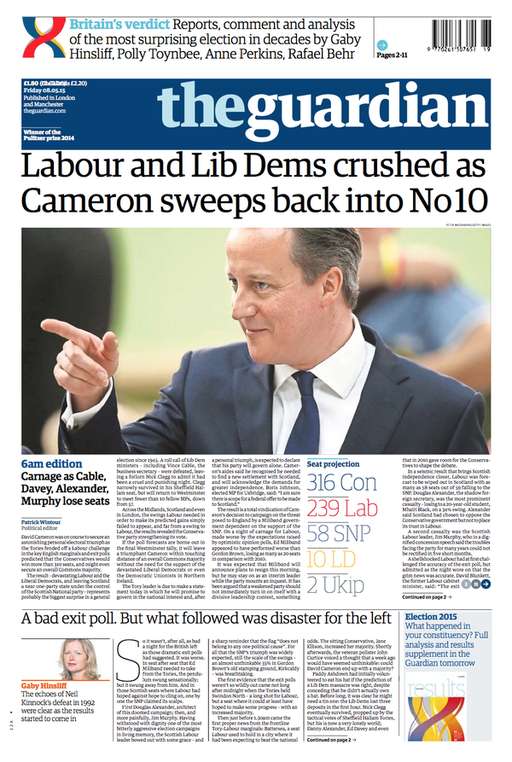 Boston and Skegness - Conservative hold
The Tories have held on to their Boston and Skegness seat, a result that will disappoint UKIP voters and party members who thought they might pinch this seat under the noses of the Conservative party. It's not been a brilliant night for the 'Kippers.
Tories on course for majority
The Conservative party are on course for an overall majority - a result that has surprised many.
Why has there been a surge in Tory support at the last moment? Conservative supporters are notoriously 'shy' about shouting about their cause, and many political commentators have picked up on this fact for years.
Or is it because UKIP lost a few last-minute voters through panicing? Perhaps the answers will become clearer over the next few days and weeks.
Danny Alexander gutted
"I have lost an election. That's democracy. I'm sure I will find some useful way to occupy my time." - Danny Alexander of the Liberal Democrats, who lost his seat to the SNP steamroller.
Lewes - Conservative gain
The Tories have gained the Lewes seat, with Maria Caulfield beating the Liberal Democrats by 1,083 votes.
Could boundary changes help Tories further?
BBC Newsnight producer James Clayton has suggested that boundary changes could give the Conservatives an extra 20 seats in the next election in 2020.

If news could get any worse for labour, a majority con gov will push through boundary changes - could give them 20 extra seats come 2020

— JamesClayton (@JamesClayton5) May 8, 2015
Lib Dem trouncing
The Lib Dems have now lost 38 seats so far in this general election. Is this their worst performance in their history? Nick Clegg admits that it has been a "cruel and punishing night" for the party after two of their cabinet ministers - heavyweight Vince Cable and Ed Davey - lose their seats. The party's Charles Kennedy and deputy Simon Hughes were also ousted.

Clegg will be meeting his team to discuss the future of his position, which may prove untenable after exit polls revealed that the Lib Dems may in fact lose a total of 47 seats.
A Conservative majority?
Is there a Conservative majority on the horizon? The party are now predicted to win a narrow majority and won't need to do any deals with any other party to form a government.
Ed Miliband Tweets

This has clearly been a very disappointing and difficult night for the Labour party. To every member and supporter, I want to say thank you.

— Ed Miliband (@Ed_Miliband) May 8, 2015
David Cameron Tweets

One nation, one United Kingdom - that is how I hope to govern if I am fortunate enough to continue as Prime Minister.

— David Cameron (@David_Cameron) May 8, 2015
Bradford West - Labour gain
George Galloway loses his Bradford West seat to Naz Shah of the Labour party, who win with a majority of 11,420 votes.
"It was a goof" - Boris Johnson
"It was a major mistake of Labour to vacate the centre-ground of politics... it was a goof" - Boris Johnson, MP for Uxbridge and Ruislip.
Yeovil - Conservative gain
The Liberal Democrats lose another seat - this time it's Yeovil where the Conservatives have gained control of the constituency.
Tories predicted to be one seat short
The Conservative party are predicted to be one seat short of an overall majority. The party needs 326 seats to be able to form a government on its own merits without the assistance of a coalition partner.
Danny Alexander loses seat
Lib Dem's Danny Alexander has lost his Inverness, Nairn, Badenoch and Strathspey seat, pounced on by the SNP, who have so far had an advance of 50 MPs in Scotland.

In the 2010 election, Alexander enjoyed a 8,765 majority, but this was slashed by the SNP whose candidate Drew Henry won by a majority of 10,809 votes - a massive swing of 20.4%.
Ed Miliband on Twitter

We won't know the result for a while but I want to say thank you to people who knocked on doors & everyone who voted. pic.twitter.com/cuuw6daHIO

— Ed Miliband (@Ed_Miliband) May 7, 2015
Witney - Conservative hold for Cameron
David Cameron holds on to his Witney seat in West Oxfordshire with a majority of 22,740, meaning that he is now re-elected as their local MP. He will be delighted with the results of the polls so far, which have now reached the half-way point. Forecasts show that the Conservatives are set to be the largest party in this general election.

In his acceptance speech, he said that it was a huge honour to be re-elected, and that "I will not let you down", committing to "one nation".

The party now look on target for a majority, meaning that they may not have to rely on a coalition or deals to form a government.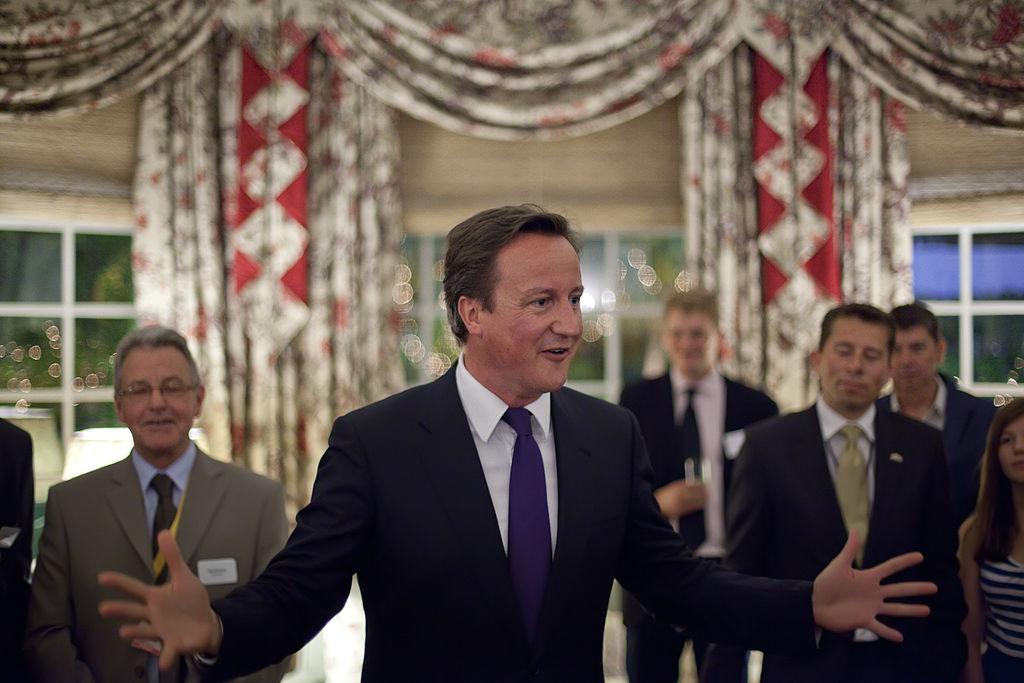 Doncaster - Labour hold
Labour party hold Doncaster with Ed Miliband. Although the seat was pretty much always his, he couldn't hide his disappointment in his party's results so far this morning.
He said that he was "deeply sorry" for his party's failings in Scotland, which contributed towards their poor results.
Twitter

Labour now need to admit the Miliband experiment has been a disaster, and start moving on fast #GE2015

— Tom Newton Dunn (@tnewtondunn) May 8, 2015
"Disappointed" - Miliband
Labour leader Ed Miliband has said that he's "deeply sorry" for what happened in Scotland, adding that it's been a "disappointing and difficult night" for the party.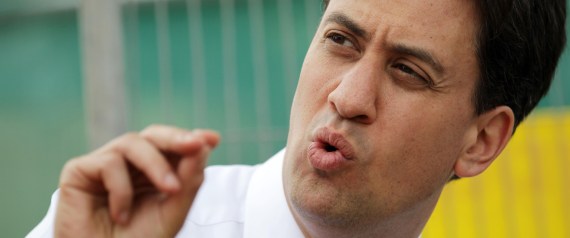 SNP ousts Charles Kennedy
Former Liberal Democrat leader Charles Kennedy has lost his seat for Ross, Skye and Lochaber to the Scottish National Party by more than 5,000 votes.
Norwich South - Labour hold
Labour holds Norwich South, dashing the hopes of the Green Party who had their eyes on this prize.
Broxtowe - Conservative hold
Anna Soubry, Tory defence minister has kept her Broxtowe seat, and has increased her majority over the Labour party.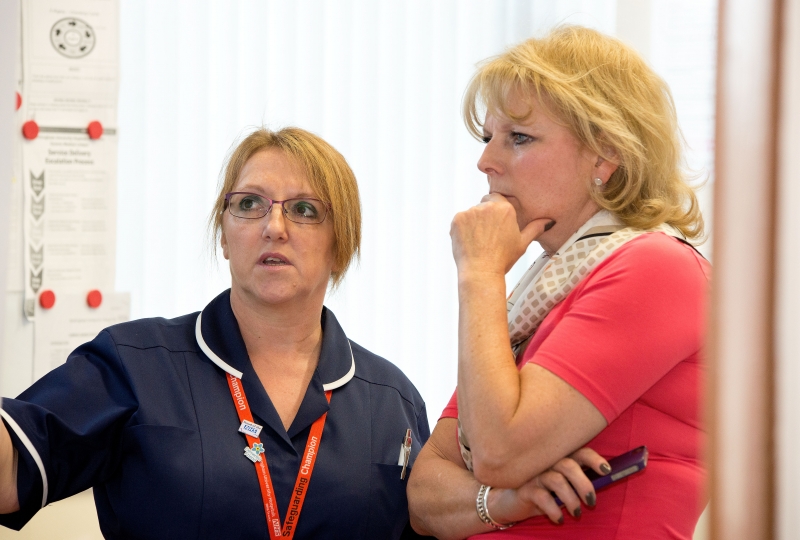 Wirral West - Labour gain
Conservative cabinet member Esther McVey has lost her Wirral West seat to the Labour Party.
Almost half way through the results
With 315 of the 650 seats declared, here's how things are looking so far...

Labour -31
Conservative +8
SNP +44
UKIP +1
Lib Dem -21
DUP 0
Plaid Cymru 0
Green 0
Sheffield Hallam - Clegg holds for Lib Dems
Liberal Democrat party leader Nick Clegg has won the Sheffield Hallam seat with 22,315 votes, beating Labour into second place with 19,800 votes. There will be a sigh of relief at the Lib Dem HQ, although they're on course to get a real drubbing this year. Commenting on the results in his acceptance speech, Clegg says that "it has been a cruel and punishing night for the Liberal Democrats".
"Inconceivable" - Ed Miliband to lead Labour?
BBC journalist Norman Smith has reported that Labour's John Mann says that it is "inconceivable" that their party will be led by Ed Miliband in the next election.
Could this be a Tory majority?
With around 280 seats declared in this election so far, there is speculation that the Conservatives could in fact see themselves in Government on their own merit, that is, without a coalition
partner in crime.
A Conservative source has said that if they won Thurrock then there is a real chance of a Tory majority overall. It's still extremely hard to tell at such an early stage, and there are plenty
of seats still to be announced. Nevertheless, the Conservatives must be confident and sitting pretty right now as the Labour party stumbles to find the votes needed to even compete with them. Chris Haycock, Co-Founder
Twickenham - Conservative gain
Lib Dem Business Secretary Vince Cable is outsted in Twickenham, with the Conservatives winning the seat. Is this the end of the road for this hugely successful politician?
"Tories could win outright" - David Davis
Former Tory leadership contender David Davis has hinted that there may be a chance that the Conservatives may actually win the 2015 election with a majority, according to the BBC. He has said that there is a "reasonable chance" that they will achieve more than 326 seats, meaning that they would be able to form a government on their own and without the support of a coalition partner. However, the exit polls suggest that the party will finish with 316 seats, short of a majority. Time will tell.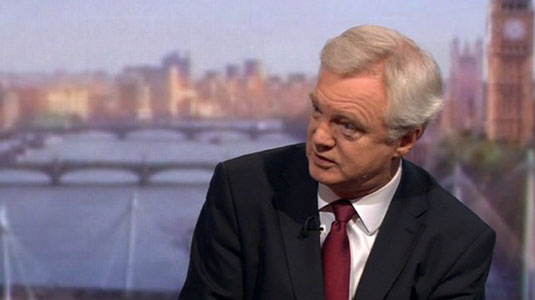 Uxbridge and South Ruislip - Tory hold
London Mayor Boris Johnson has held on to his Uxbridge and South Ruislip seat with almost double the amount of Labour votes. Boris won with 22,511 votes.
Edinburgh South - Labour hold
The Edinburgh South seat has been held by Ian Murray of Labour, which will be a huge relief for the party, given the unprecedented support for the Scottish Nationals.
Gordon - SNP gain
Alex Salmond wins the Gordon seat in Scotland, meaning that he is now once again an MP for the SNP. Commenting on the result, the powerhouse MP said that "The Scottish lion has roared".

It appears that the SNP will be pretty much wiping out the Labour Party in Scotland, with Margaret Curran and Douglas Alexander both losing their seats. All seven seats in Glasgow have been taken from Labour by the SNP, meaning that it's their most successful general election in history.
Thurrock - Conservative hold
The Tories have held onto their Thurrock seat, earmarked as a UKIP priority seat. Jackie Doyle Price wins for the Conservatives with a slight majority over the Labour Party. UKIP was forced into third place, which will be a huge disappointment for the party.
Miliband resignation played down
Sources close to Labour leader Ed Miliband are saying that speculation surrounding his resignation are unfounded, and that there are plenty of results to come in yet.
Explosion reported in Hinckley
A police car has exploded outside a polling station in Hinckley, Leicestershire. Police and fire service has said that the explosion outside the polling station in Bosworth, was "probably malicious". No-one was injured in the blast, but glass was blown across the road.
Clacton - UKIP hold
Clacton, a relatively safe UKIP seat has been retained by UKIP's Douglas Carswell. Interestingly, the Conservatives - Carswell's former party - has come in second place.
Simon Hughes loses seat
Labour wins Lib Dem Simon Hughes seat with a significant swing of 13.9% towards Labour, giving the winner Neil Coyle a majority of 4,489 votes. Simon Hughes has held his seat for a massive 32 years.
Ilford North - Labour gains seat
Labour has gained Ilford North, taking it from the Tories. Former National Union of Students president Wes Streeting wins the seat with a swing of 6.3% from the Tories, a majority of 589 votes.
Kingston & Surbiton - Conservative
Lib Dem Energy Secretary has lost the Kingston and Surbiton seat to the Tories.
Jim Murphy loses to SNP
Scottish Labour leader Jim Murphy has lost his Renfrewshire East seat to the SNP.
Swindon South - Conservative hold
The Tories have held onto Swindon South seat, following from Labour's Alan Johnson suggesting that it might be lost to Labour. The constituency saw a Tory swing of 2.1%.
Youngest MP for 350 years elected
Mhairi Black of the SNP has become the youngest member of parliament for 350 years at just 20 years old.
Alexander unseated
Lib Dem shadow foreign secretary Douglas Alexander has lost his Paisley and Renfrewshire South seat in Scotland to the ever-powerful SNP.
Sturgeon blames the Labour party
"If it doesn't prove possible to lock the Tories out of government then that will be the fault of Labour in England", says Nicola Sturgeon, SNP leader. She went on to suggest that her party would still be willing to work with Labour to create an anti-Conservative majority.
Nuneaton - Conservative hold
A key target seat for Labour - Nuneaton - has been held by the Conservatives with a majority of 5,000 votes.
Wrexham - Labour hold
Labour just about holds onto the Wrexham seat in Wales, although there was a 2.9% swing to the Tories.
Galloway reported to police
Breaking news shows that Respect Party's George Galloway has been reported to the police after tweeting about exit polls before the polls closed.
Newcastle East - Labour holds
Labour have held the Newcastle East seat for Nick Brown with a majority of 12,494, albeit a very safe seat for the Labour party.
Nick Robinson, BBC Political Editor
"If this exit poll is correct, for Ed Miliband's Labour Party to do worse than Gordon Brown's Labour Party would be amazing. After the banking crisis that we had under Brown, after his personal unpopularity, it really, really would be quite extraordinary."
Tories hold Putney
Justine Greening, International Development Secretary, has held Putney for the Conservative party.
"None of the parties may have won" - Labour's Alan Johnson
Commenting on the exit poll, Alan Johnson has said that even the Tories have not won a clear majority.
SNP looks set for a landslide in Scotland
Labour has been pretty much wiped off the map in Scotland by the SNP, who look as though they might sweep the board. An exit poll suggested that the party will win 58 of Scotland's 59 seats.
How do the parties stand?
The exit polls suggest that the results will look as follows in the morning: Conservative 316, Labour 239, SNP 58, Lib Dems 10 , Plaid Cymru 4, UKIP 2, Greens 2, Others 19. Source: BBC, http://www.bbc.co.uk/news/election-2015-32633008.
Exit polls show strong Conservative support
Exit polls have shown that the Tories are set to win 316 seats, just seven short of a majority. Labour were predicted to win 239 seats, but the exit polls seem to suggest that they are down 19 on this figure. The Liberal Democrats are forecast to lose a whopping 47 seats. The exit poll in 2010 was very accurate.
Live election results throughout the night
Well, here we are, the eve of the morning after, with all the results of the 2015 general election. Stay tuned as we'll be bringing you the latest poll results, winning parties and news throughout the night and morning. This page will refresh every two minutes to show you the latest news and announcements.
UK Vote Share
642 of 650 seats declared @ 12:20
---
2015 General Election Guides
© Copyright 2014/2023 Who Shall I Vote For? and Chris Haycock Policy scoring algorithm updated 30 September 2023 at 15:50