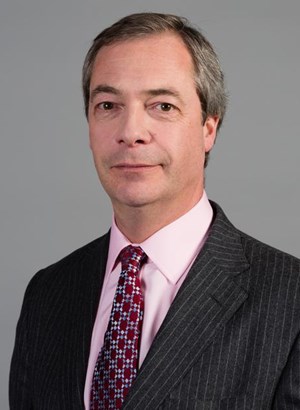 Nigel Farage Uk Independence Party Party Leader
Nigel Paul Farage was born in Kent and educated at Dulwich College in South London. Farage not to attend university, instead working on the stock exchange trading commodities with brokerage firms Drexel Burnham Lambert, Credit Lyonnais Rouse, Refco and Natexis Metals.
From his early years at school, Farage was an active member of the Conservative Party, although he left in protest after John Major's party signed the Maastricht Treaty, which created the European Union and led to the creation of the single European currency.
Farage was one of the founding members of the UK Independence Party (UKIP), a Eurosceptic, right-wing populist political party in 1993, along with members of the Anti-Federalist League who wanted to withdraw from the EU.
Becoming the leader of UKIP in 2006, Farage led UKIP to its first victory at the 2014 European Election - the first for a party other than the Conservatives or Labour to have done so since the 1906 general election.
Farage will contest the South Thanet seat at the 2015 general election.


Members of Parliament (MPs)
2015 General Election Guides
© Copyright 2014/2017 Who Shall I Vote For?. Policy scoring algorithm updated 23 May 2017 at 19:52