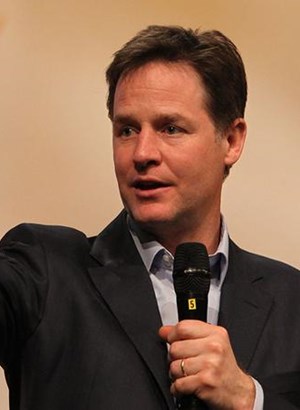 Nick Clegg Liberal Democrat Party Leader
Born in 1967 in Chalfont St. Giles in Buckinghamshire, Nicolas William Peter Clegg is the leader of the Liberal Democrat party, as well as Deputy Prime Minister. Educated at Westminster School and Cambridge University, Clegg was awarded a scholarship to study at the University of Minnesota where he spent a year, then moving to New York working as an intern at The Nation, a progressive liberal magazine, under Christopher Hitchens.
1998 saw Clegg being selected as the lead Liberal Democrat euro-candidate for East Midlands, and was credited with helping to boost poll ratings in the area after the election.
After Sheffield Hallam MP Richard Allan announced his intention to stand down from parliament in November 2004, Clegg was selected to represent the constituency, winning it at the 2005 general election with more than 50% of the vote.
His bid to become the leader of the Liberal Democrats in 2008 was a success, and upon winning declaring himself "a liberal by temperament, by instinct and by upbringing" in his acceptance speech.


Members of Parliament (MPs)
2015 General Election Guides
© Copyright 2014/2017 Who Shall I Vote For?. Policy scoring algorithm updated 23 May 2017 at 19:53