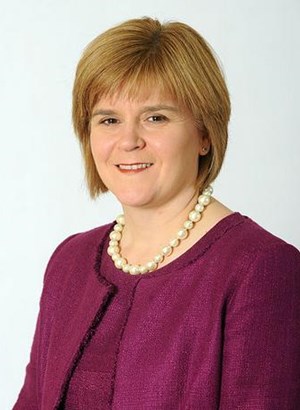 Nicola Sturgeon Scottish National Party Leader
Born in Ayrshire and raised in Prestwick, Nicola Sturgeon studied law at the University of Glasgow, and graduated with a Bachelor of Law (Hons) and a Diploma in Legal Practice.
Sturgeon joined the SNP (Scottish National Party) in 1986, becoming their Youth Affairs Vice Convener and Publicity Vice Convener.
It was the 1992 general election where Sturgeon first stood for election, representing Glasgow Shettleston, and at the time the youngest parliamentary candidate in Scotland. Although she failed to win the seat, seven years later Sturgeon stood for election to the Scottish Parliament as the SNP candidate for Glasgow Govan, and although once again she did not win the seat she was elected as a Member of the Scottish Parliament due to being placed first in the SNP regional list for the region.
After John Swinney resigned as SNP leader in 2004, Sturgeon announced that she would be a candidate for the leadership, although she withdrew to support Alex Salmond, which he won. Sturgeon was announced Deputy Leader of the SNP.
The defeat of the Yes Scotland campaign led to Alex Salmond resigning as First Minister and Leader of the SNP, which in turn led to overwhelming support for Sturgeon as their next leader, a contest which she won comfortably in September 2014.


Members of Parliament (MPs)
2015 General Election Guides
© Copyright 2014/2023 Who Shall I Vote For? and Chris Haycock Policy scoring algorithm updated 09 December 2023 at 00:43