FOUNDED1971
PARTY LEADERArlene Foster
LEADER SINCE
COLOURRed, White and Blue
MEMBERSHIP
MP'S8
WEBSITE: http://www.mydup.com/
HEADQUARTERS: 91 Dundela Avenue
Belfast
County Antrim
Northern Ireland
IDEOLOGY: National Conservatism,Social Conservatism,British Unionism,Euroscepticism
POSITION: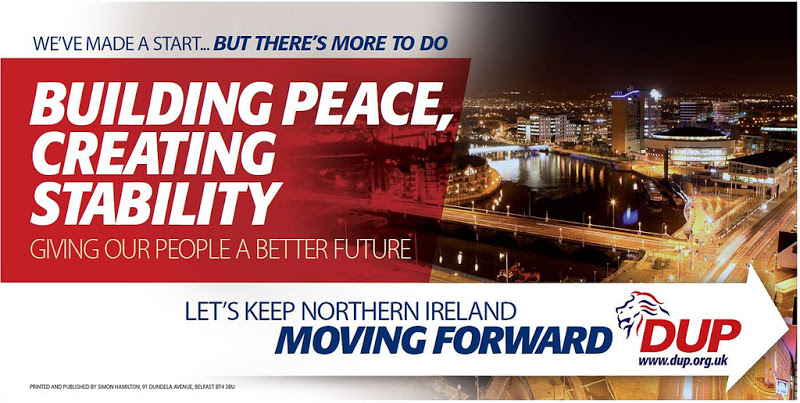 Party Introduction
Hardline Unionist and national conservative party in Northern Ireland. Also very socially conservative with close links to Evangelical Protestantism. Source: Wikipedia
Of the two primary unionist political parties in Northern Ireland, the Democratic Unionist Party (DUP) is the larger of the two.
The party was founded in September 1971 by Ian Paisley and Desmond Boal, and have strong affiliation with the Protestant religion, in particular the church that Paisley founded, The Free Presbyterian Church of Ulster.
The DUP currently holds eight seats in Westminster, 38 seats in the Northern Ireland Assembly and one seat in the European Parliament.
Following the 2005 general election, the party was confirmed as the largest unionist party, also making it the fourth largest political party in the House of Commons (in terms of seats), putting them behind the Liberal Democrats.
Browse more information about the democratic unionist%%> party and read about their members, policies, or read news.
DEMOCRATIC UNIONIST PARTY
POLITICAL BROADCASTS
21 May 2012
2015 General Election Guides
© Copyright 2014/2023 Who Shall I Vote For? and Chris Haycock Policy scoring algorithm updated 07 December 2023 at 17:45