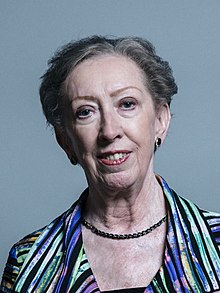 NAMEMargaret Beckett
PARTYLabour
POSITIONN/a
PUBLICWHIP LINKhttp://publicwhip.com/mp.php?mpid=40202
CABINETFalse
CONSTITUENCYDerby South
EMAILmailto:james@derbylabourparty.co.uk
SPOKEN MATERIALView spoken material
PARLIAMENT LINKView Parliament profile
Bio
Dame Margaret Mary Beckett, DBE (née Jackson; born 15 January 1943) is a British Labour Party politician who has been the Member of Parliament (MP) for Derby South since 1983. She was the Deputy Leader of the Labour Party under John Smith 1992 to 1994, and briefly served as Leader of the Labour Party following Smith's sudden death. She later served in the Cabinet under Prime Minister Tony Blair in a number of roles, becoming Britain's first female Foreign Secretary in 2006.
Beckett was first elected to Parliament in 1974 for Lincoln and held junior positions in the governments of Harold Wilson and James Callaghan. She lost her seat in 1979, but returned to the House of Commons in 1983, this time representing Derby South. She was appointed to Neil Kinnock's Shadow Cabinet shortly afterwards, being elected Deputy Leader of the Labour Party in 1992, becoming the first woman to hold that role. On the death of John Smith in 1994, she became the first woman to lead the Labour Party, although Tony Blair won the election to replace Smith shortly afterwards to assume the substantive leadership.
After Labour's victory in 1997, Beckett became a member of Tony Blair's Cabinet initially as President of the Board of Trade. She was later the Leader of the House of Commons and Secretary of State for Environment, Food and Rural Affairs, before becoming Foreign Secretary in 2006, the first woman to hold that position, and—after Margaret Thatcher—the second woman to hold one of the Great Offices of State. After Blair resigned as Prime Minister in 2007, Beckett was not initially given a position by new Prime Minister Gordon Brown. After some time, Brown appointed her Minister of State for Housing and Planning in 2008, before she left the government for the last time in 2009.
She is the longest-serving female MP in the House of Commons, as well as being one of the longest-serving ministers in government history. She is also one of the few remaining MPs who served in the Labour governments of the 1970s. She was appointed a Dame Commander of the Order of the British Empire in the 2013 New Year Honours for public and political service.
Wikipedia page: http://en.wikipedia.org/wiki/Margaret_Beckett
Constituency: Derby South
2015 General Election Guides
© Copyright 2014/2023 Who Shall I Vote For? and Chris Haycock Policy scoring algorithm updated 30 September 2023 at 15:50