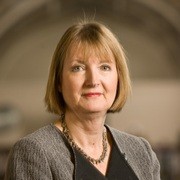 NAMEHarriet Harman
PARTYLabour
POSITIONDeputy Leader of the Labour Party
PUBLICWHIP LINKhttp://publicwhip.com/mp.php?mpid=40140
CABINETTrue
CONSTITUENCYCamberwell and Peckham
EMAILmailto:harmanh@parliament.uk
WEBSITEhttp://www.harrietharman.org/
TWITTER@harrietharman
SPOKEN MATERIALView spoken material
PARLIAMENT LINKView Parliament profile
Bio
Harriet Ruth Harman, QC MP (born 30 July 1950) is a British Labour Party politician and Member of Parliament (MP) for Camberwell and Peckham since 1982. She has been Deputy Leader of the Labour Party since 2007, and is also currently Shadow Deputy Prime Minister and Shadow Secretary of State for Culture, Media and Sport.
Harman was first appointed to the Cabinet in 1997 under Tony Blair, as Secretary of State for Social Security and the first ever Minister for Women. After holding further Cabinet and government positions on two further separate occasions, she became the Leader of the Labour Party and the Leader of the Opposition, following the resignation of Gordon Brown as Labour Leader and Prime Minister in May 2010. She held both posts temporarily until Ed Miliband subsequently won the 2010 Labour leadership election.
Harman deputises for Miliband whenever he is absent for Prime minister's questions in her role as Shadow Deputy Prime Minister. She is currently the longest continuously-serving female MP in the House of Commons.
Wikipedia page: http://en.wikipedia.org/wiki/Harriet_Harman
Constituency: Camberwell and Peckham
2015 General Election Guides
© Copyright 2014/2023 Who Shall I Vote For? and Chris Haycock Policy scoring algorithm updated 09 December 2023 at 00:43