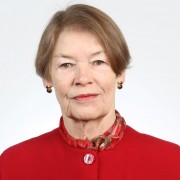 NAMEGlenda Jackson
PARTYLabour
POSITIONN/a
PUBLICWHIP LINKhttp://publicwhip.com/mp.php?mpid=40296
CABINETFalse
CONSTITUENCYHampstead and Kilburn
WEBSITEhttp://www.glenda-jackson.co.uk/
TWITTER@glendajacksonmp
SPOKEN MATERIALView spoken material
PARLIAMENT LINKView Parliament profile
Bio
Glenda May Jackson, CBE (born 9 May 1936) is a British Labour Party politician and former actress. She first became a Member of Parliament (MP) in 1992, and represented Hampstead and Kilburn until 2015.
As a professional actress from the late 1950s, she spent four years as a member of the Royal Shakespeare Company from 1964, being particularly associated with the work of director Peter Brook. During her film career, she won two Academy Awards for Best Actress: for Women in Love (1970) and A Touch of Class (1973). Other award-winning performances include Alex in the film Sunday Bloody Sunday (1971) and the BBC television serial Elizabeth R (also 1971); for the latter she received an Emmy.
Before 2010, Jackson was the MP for Hampstead and Highgate, and early in the government of Tony Blair served as a Junior Transport minister from 1997 to 1999, later becoming critical of Blair. After constituency boundary changes for the 2010 general election, her majority of 42 votes was one of the closest results of the entire election. She announced in 2011 that she would stand down as an MP at the 2015 general election.
http://en.wikipedia.org/wiki/Glenda_Jackson
Constituency: Hampstead and Kilburn
2015 General Election Guides
© Copyright 2014/2023 Who Shall I Vote For? and Chris Haycock Policy scoring algorithm updated 02 December 2023 at 15:58