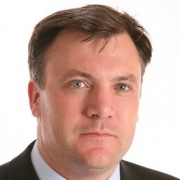 NAMEEd Balls
POSITIONN/a
PUBLICWHIP LINKhttp://publicwhip.com/mp.php?mpid=40411
CABINETFalse
CONSTITUENCYMorley and Outwood
EMAILmailto:ed.balls.mp@parliament.uk
WEBSITEhttp://www.edballs.com/
TWITTER@edballsmp
SPOKEN MATERIALView spoken material
PARLIAMENT LINKView Parliament profile
Bio
Edward Michael Balls (born 25 February 1967) is a British Labour Party and Co-operative Party politician, who has been the Member of Parliament (MP) for Morley and Outwood since 2010, and is the current Shadow Chancellor of the Exchequer.
From 2005 to 2010, he was the MP for Normanton and he served as Secretary of State for Children, Schools and Families under Gordon Brown from 2007-10.
Balls is married to current Shadow Home Secretary and fellow Labour MP Yvette Cooper. In June 2007 they became the first married couple to serve together in a British Cabinet when Cooper became Chief Secretary to the Treasury.
Wikipedia page: http://en.wikipedia.org/wiki/Ed_Balls
Constituency: Morley and Outwood
2015 General Election Guides
© Copyright 2014/2023 Who Shall I Vote For? and Chris Haycock Policy scoring algorithm updated 29 September 2023 at 17:57