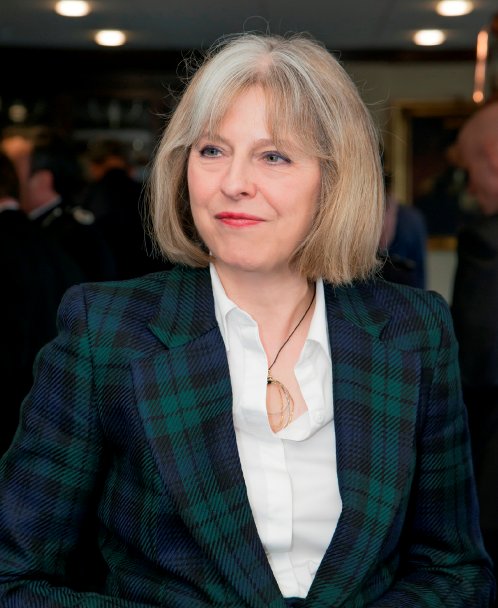 NAMETheresa May
PARTYConservative
POSITIONSecretary of State for the Home Department
PUBLICWHIP LINKhttp://publicwhip.com/mp.php?mpid=40382
CABINETTrue
CONSTITUENCYMaidenhead
EMAILmailto:mayt@parliament.uk
WEBSITEhttp://www.tmay.co.uk/
TWITTERwww.gov.uk/government/organisations/home-office
SPOKEN MATERIALView spoken material
PARLIAMENT LINKView Parliament profile
Bio
Theresa Mary May PC MP (née Brasier; born 1 October 1956) is a British Conservative politician, and the current UK Home Secretary.
May was first elected to Parliament in 1997 as Member of Parliament for Maidenhead. She went on to be appointed Chairman of the Conservative Party and was sworn of Her Majesty's Most Honourable Privy Council in 2002.
She served in a number of roles in the Shadow Cabinets of Iain Duncan Smith, Michael Howard and David Cameron, including Shadow Leader of the House of Commons and Shadow Work and Pensions Secretary.
When Cameron became Prime Minister in May 2010, May was appointed Home Secretary and Minister for Women and Equalities; delegating the latter role in 2012 to Maria Miller, Secretary of State for Culture, Media and Sport (2012–14).
Wikipedia page: http://en.wikipedia.org/wiki/Theresa_May
Constituency: Maidenhead
2015 General Election Guides
© Copyright 2014/2023 Who Shall I Vote For? and Chris Haycock Policy scoring algorithm updated 09 June 2023 at 04:51