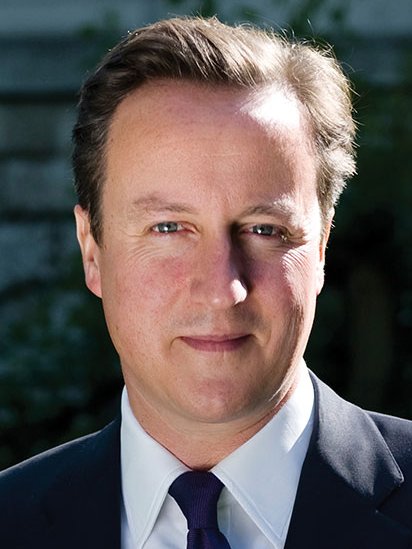 NAMEDavid Cameron
PARTYConservative
POSITIONPrime Minister, First Lord of the Treasury , Minister for the Civil Service
PUBLICWHIP LINKhttp://publicwhip.com/mp.php?mpid=40665
CABINETTrue
CONSTITUENCYWitney
WEBSITEhttp://www.davidcameronmp.com/
TWITTER@david_cameron
SPOKEN MATERIALView spoken material
PARLIAMENT LINKView Parliament profile
Bio
David William Donald Cameron (/ˈkæm(ə)rən/; born 9 October 1966) is the Prime Minister of the United Kingdom and Leader of the Conservative Party. He represents Witney as its Member of Parliament (MP).
Cameron studied Philosophy, Politics and Economics (PPE) at Brasenose College, Oxford, gaining a first-class honours degree in 1988. He was described by his tutor, Professor Vernon Bogdanor, as "one of the ablest" students he has ever taught, with "moderate and sensible Conservative" political views. While at Oxford he was a member of the Bullingdon Club. He then joined the Conservative Research Department and became Special Adviser to Norman Lamont, and then to Michael Howard. He was Director of Corporate Affairs at Carlton Communications for seven years.
Cameron first stood for Parliament in Stafford in 1997. He ran on a Eurosceptic platform, breaking with his party's then-policy by opposing British membership of the single European currency, and was defeated by a swing close to the national average. His first successful attempt to become an MP was in the 2001 general election for the Oxfordshire constituency of Witney. He was promoted to the Opposition front bench two years later, and rose rapidly to become head of policy co-ordination during the 2005 general election campaign. With a public image of a youthful, moderate candidate who would appeal to young voters, he won the Conservative leadership election in 2005.
In the 2010 United Kingdom general election held on 6 May, the Conservatives won 306 seats in a hung parliament. After five days of negotiation, Cameron formed a coalition with the Liberal Democrats (Lib Dems). Cameron leads the first coalition government of the United Kingdom since the Second World War. The 43-year-old Cameron became the youngest British Prime Minister since the Earl of Liverpool 198 years earlier.
Cameron's premiership has been marked by the ongoing effects of the late-2000s financial crisis leading to a large deficit in government finances, which his government has emphasised the need to reduce through austerity measures. His administration has introduced large-scale changes to welfare, immigration policy, education and healthcare, by introducing the Welfare Reform Act of 2012, the Education Act of 2011, the Health and Social Care Act of 2012 and a range of immigration reforms from 2010 onwards, culminating in the Immigration Act of 2014. In 2011, Cameron became the first British Prime Minister to 'veto' an EU treaty. His government introduced a nationwide referendum on voting reform in 2011, a Falkland Islands sovereignty referendum in 2013, agreed to a Scottish independence referendum in September 2014, legalised same-sex marriages in England and Wales, met the United Nations target of spending at least 0.7% of GNI on aid to developing countries and promised an 'In/Out' Referendum on the European Union in 2017, after a period of renegotiation, if the Conservatives are re-elected with an outright majority.
Wikipedia page: http://en.wikipedia.org/wiki/David_Cameron
Constituency: Witney
2015 General Election Guides
© Copyright 2014/2023 Who Shall I Vote For? and Chris Haycock Policy scoring algorithm updated 30 September 2023 at 15:50